I think flower girl dresses might just be my favourite aspect of wedding day style – when I was getting married, I pinned way more dress options for my niece, than for myself!
There's something just so lovely about a tulle tutu, a cute summer dress, or a fun butterfly number, don't you think?
Your flower girl dresses can be a chance to be a bit playful with the vibe of your wedding, to pair your own more demure or classic style with something colourful or free-spirited, or to create a mini-me look with a dress that's a similar aesthetic to your own.
Don't forget to buy a size or two larger than you need if you're shopping a few months in advance of your big day (kids grow fast!) and make sure you buy something your flower girl will be comfortable in. You don't want to force any child into a fussy tutu if they don't like wearing dresses, and try to avoid itchy or non-breathable fabrics, particularly for younger kids.
To help you get your shopping (and pinning) underway, we've put together an edit of ten sweet and chic flower girl dresses we hope the little ladies in your life will love.
Now, if only I could get some of these in my size!
1. Victorian Lace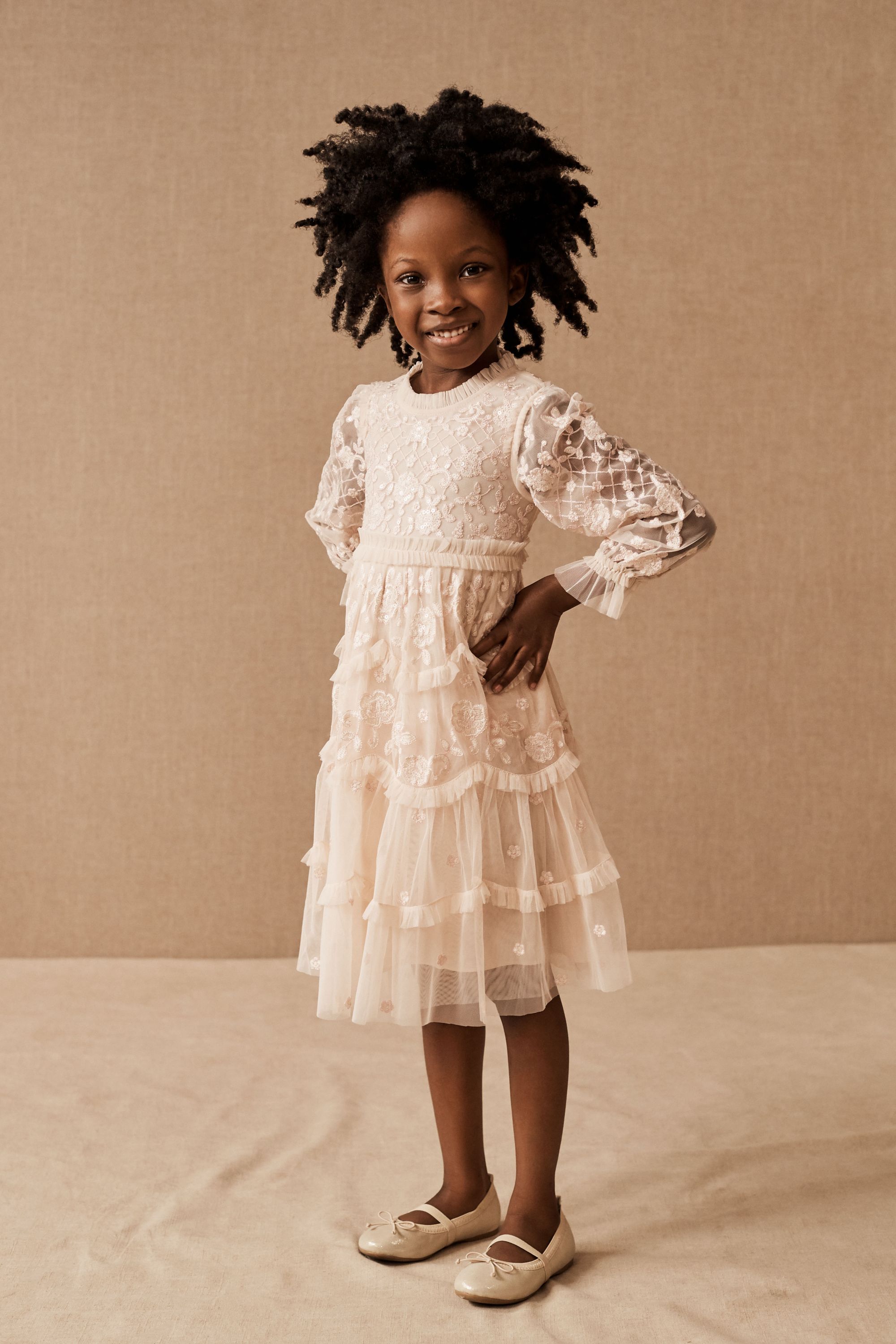 Marigold Rose Dress by Needle & Thread via BHLDN
2. Tulle Tutus
Tulle Tutus by Mimosa Couture on Etsy
3. Keyhole Back Detail
Keyhole Back Lace & Tulle Flower Girl Dress by Rumpleshome via Etsy
4. All About the Blush
Blush Flower Girl Dress by Pink Peony By Katerina via Etsy
5. Crocheted Blue
Boho Flower Girl Dress by Aylinka Shop via Etsy
6. Applique Butterflies
Peter Pan Collar Champagne Tulle Flower Girl Dress by Rumpleshome via Etsy
7. Off-the-Shoulder
Off-the-Shoulder Flower Girl Dress by RIDTHISING via Etsy
8. Vintage Inspired
Lace Flower Girl Dress by Miss Dandy Atelier via Etsy
9. Ruffles
Flower Girl Dress by Pink Peony By Katerina via Etsy
10. Ballerina Dresses
Dresses by Olivia Kate Couture via Etsy
Lots of shopping to do? Here's everything you might need to buy for your wedding in one place & download our wedding budget spreadsheet for free!