As a former October bride (see my Autumn wedding on the Washington Coast), I didn't want the weather of the season to weigh down my wedding guests' style! My hope was for every one of my guests and bridesmaids is to feel fun and stylish, even if they have to throw on a jacket as the cold of autumn evening sets in.
With the resurgence of unique looks for the bride, like bridal jumpsuits and unique 3D textures, wedding guest style should be playful and just as fabulous! As a wedding guest, embrace the elements of what you already love wearing. (Remember these incredible starry bridesmaid gowns?)
Our favorite trends of the season – wrap dresses, bold prints, jumpsuits, two-piece ensembles, and even more glam versions of bridesmaid gowns – this list is your go-to for wedding shopping. These ensembles are wedding appropriate yet modern and fun to wear as a wedding guest, or even as a bridesmaid this fall!
Wrap Dresses
Wrap dresses have that "dressed up but not overdone" feeling. They're a dress with duality. Make it fancy or keep it a little more casual when the occasion calls for it. Grab a slick clutch and you're wedding guest ready. Swap out your fancy heels for a pair of boots and you're ready for an evening out.
1. Sparkle Wrap Dress
Plymouth Dress by BHLDN
2. Yellow Gingham
Dolly Wrap Dress by Sister Jane via ShopBop
3. Flowy Wrap Dress
Winslow Dress by Reformation
4. Olive Silk Wrap Dress
Silk Wrap Midi Dress by Zimmermann via ShopBop
Jumpsuits
This is one of our favorite trends! And it's for everyone. Jumpsuits look put together without the need to accessorize (but please, adorn yourself in jewelry as you see fit!) Make a statement with zero fuss. Pair with a bold shoe and you look composed without overthinking the details.
5. Floral Jumpsuit
Lemongrass Jumpsuit by Reformation
6. Retro Jumpsuit
Priestess Jumpsuit by Lenni via Free People
7. Fancy Embroidered Denim Jumpsuit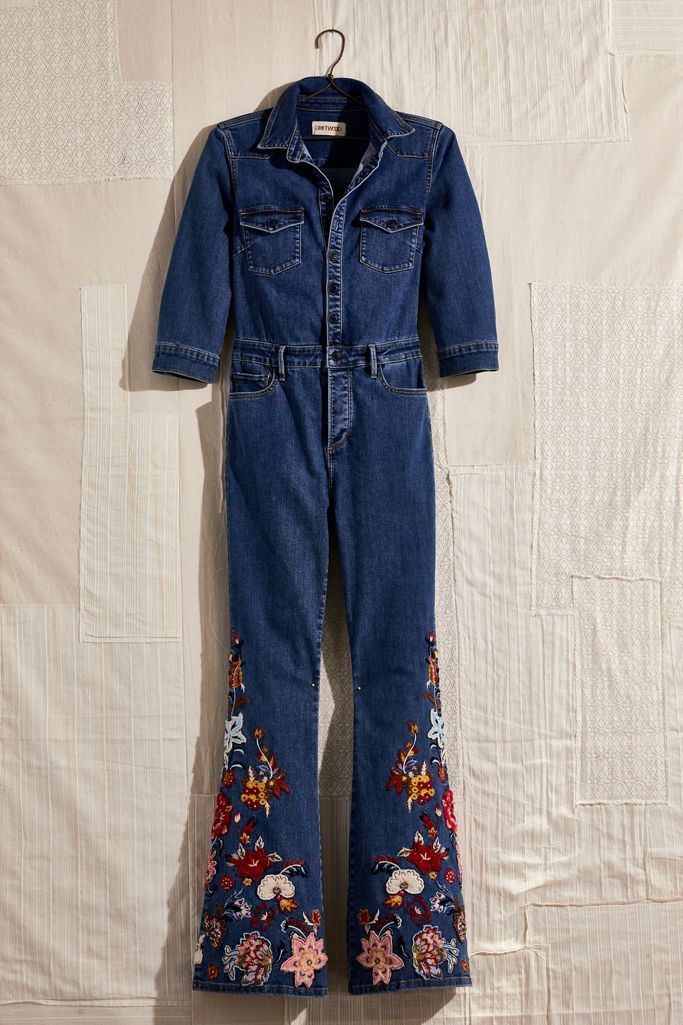 Farrah Embroidered Jumpsuit by Driftwood x Free People
8. Corn Maze Yellow Jumpsuit
Maricopa Jumpsuit by Black Halo via ShopBop
Bold Patterns
I'm the first to admit I'm a huge fan of neutral tones. But, if you want to rock something a little more playful, then a bold pattern at a wedding is the perfect combination. Weddings are the happiest occasions, so sporting a happy print only makes the celebrating easier. (And the photos will look even more cheerful!)
9. Tiger Dress
Agua Alta Dress by Juan de Dios via ShopBop
10. Sixties Floral Dress
Emma Dress by RIXO via ShopBop
11. Falling Poppies
The Honey Trap Dress by The Vampires Wife via ShopBop
12. Cosmic Sunflower Dress
Hana Dress by Banjanan via ShopBop
13. Autumn Tropicale Dress
Sicily Dress by Mara Hoffman via ShopBop
Two-Piece Ensembles
YES. The pantsuit trend is not only cool and sophisticated, but sexy. (And definitely the type of wedding outfit you can wear again in different combinations). This look is ever evolving, so make it you!
14. Mustard Velvet Suit
Velvet Single-Breasted Blazer & Wide Leg Pant by endless rose via ShopBop
15. Snakeskin Set
Valerie Pant & Iris Button-Down Shirt by Mara Hoffman via ShopBop
16. 70s Cropped Set
Ikala Top & Aditya Skirt by Alexis via ShopBop
Bridesmaid-Inspired Dresses
Inspired by the bridesmaid styles of long flowing dresses with simple details, these gowns can do double duty as a bridesmaid or a wedding guest look. They're a little more sophisticated than traditional bridesmaid dresses but still play by the rules.
17. Square Neck Dress
Adena Dress by BHLDN
18. Silky Maxi Dress
The Rosabel Dress by Fame & Partners via Free People
19. Billowing Organza Gown
Mila Dress by STAUD via ShopBop
20. Mod Midi Dress
Fleur Dress by Saloni via ShopBop
To shop even more wedding day looks for bridesmaids & guests check our Best Places to Shop for Bridesmaids Dresses Online guide.