Raise your hand if you're ready to move on from your disposable paper face masks and onto something cute?
Now raise your other hand if your dog-walking, grocery-shopping & gas-station-pumping face mask is NOT going to work for your wedding day (or your BFF's wedding day)?
Mmkay, I see you all, window shopper Claire is here to help.
I hit that point about three weeks ago whilst working with our mini team of three on a gorgeous bridal shoot in Oregon. My sad 10 cent mask wasn't making me feel super "wedding-y" and I figured I must not be the only one. So I hit Etsy, Insta & my favorite online shops to find more stylish & wedding-ready face masks that are both functional & fashionable.
Need to tell your guests about your new wedding plans? Check out these cute & classy Change the Date cards.
Aside from general style & level of "fanciness" I've come up with some options that are healthier for your skin (silk masks save you from skin irritation!) and even ones that match your bridesmaid dresses. Speaking of which, if you have direct contact with your dress designer (or even bridal salon), they may be able to make you a mask that matches your gown using the same fabric. Score!
But if that's not the case, I've found some real winners shoppable online. Just a note, these are non-medical-grade masks, but they will offer some level of protection advised by the CDC (and required to be worn in public by many state & local governments).
1. Luxurious Silk
100% Silk Chic Pleated Face Mask with Ties by Danenberg Design via Etsy
2. Bridesmaids Mix & Match
100% Mulberry Silk Double Layer Face Mask by Silk & More Gallery via Etsy
3. Pretty Pastels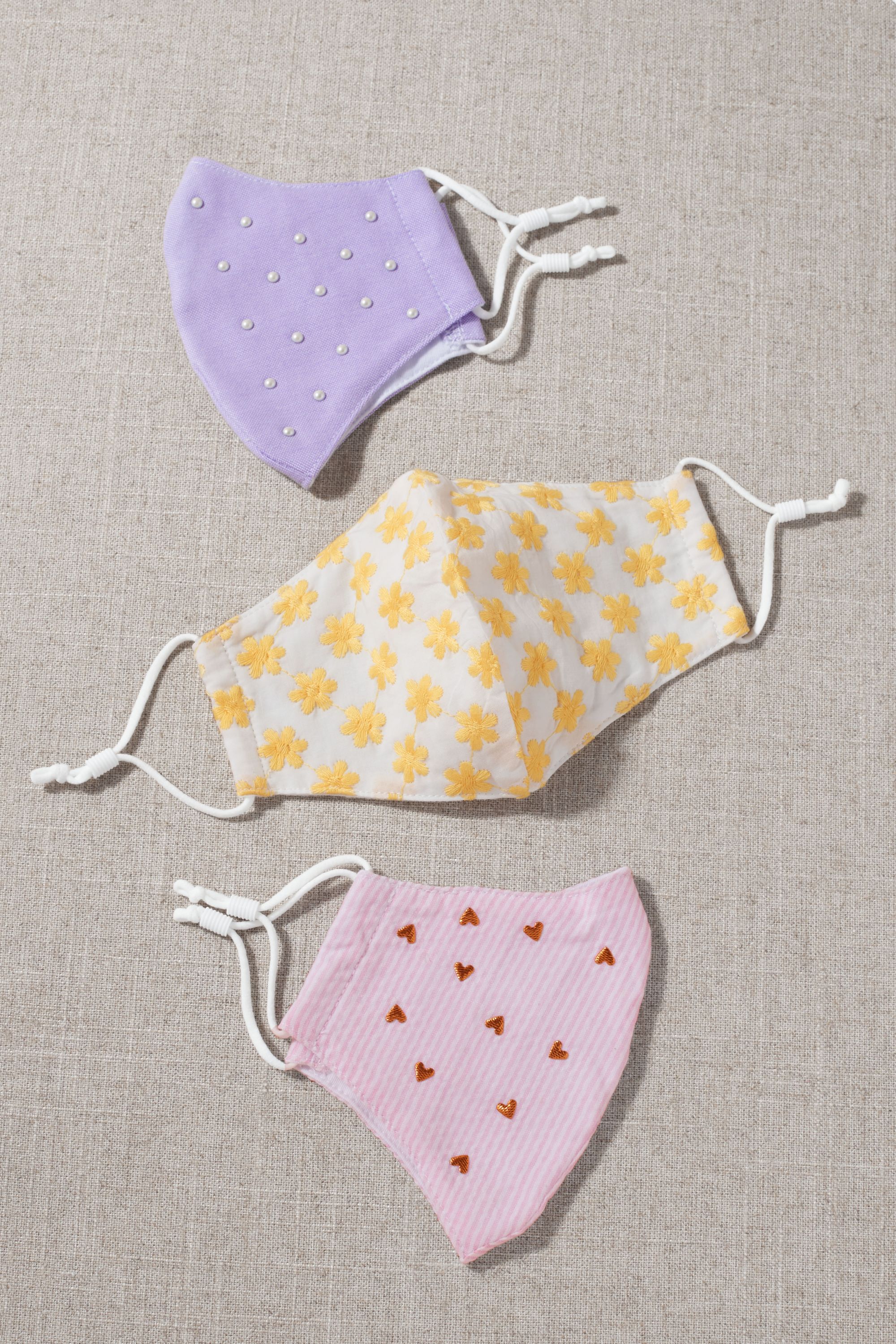 Pastel Reusable Face Masks by Lele Sadoughi via BHLDN
4. Sweet Embroidery
Handmade Masks with Embroidery by Minju Fashion via Etsy
5. Match Your Bridetribe
Masks that Match Your Reformation Dress by Reformation
6. Lilac is the New Blush
Lilac Face Mask for Women by Lingerina ZILINA via Etsy
7. Swiss Dot
Mask & Scrunchie Combo by A Bronze Age
8. Sweet Florals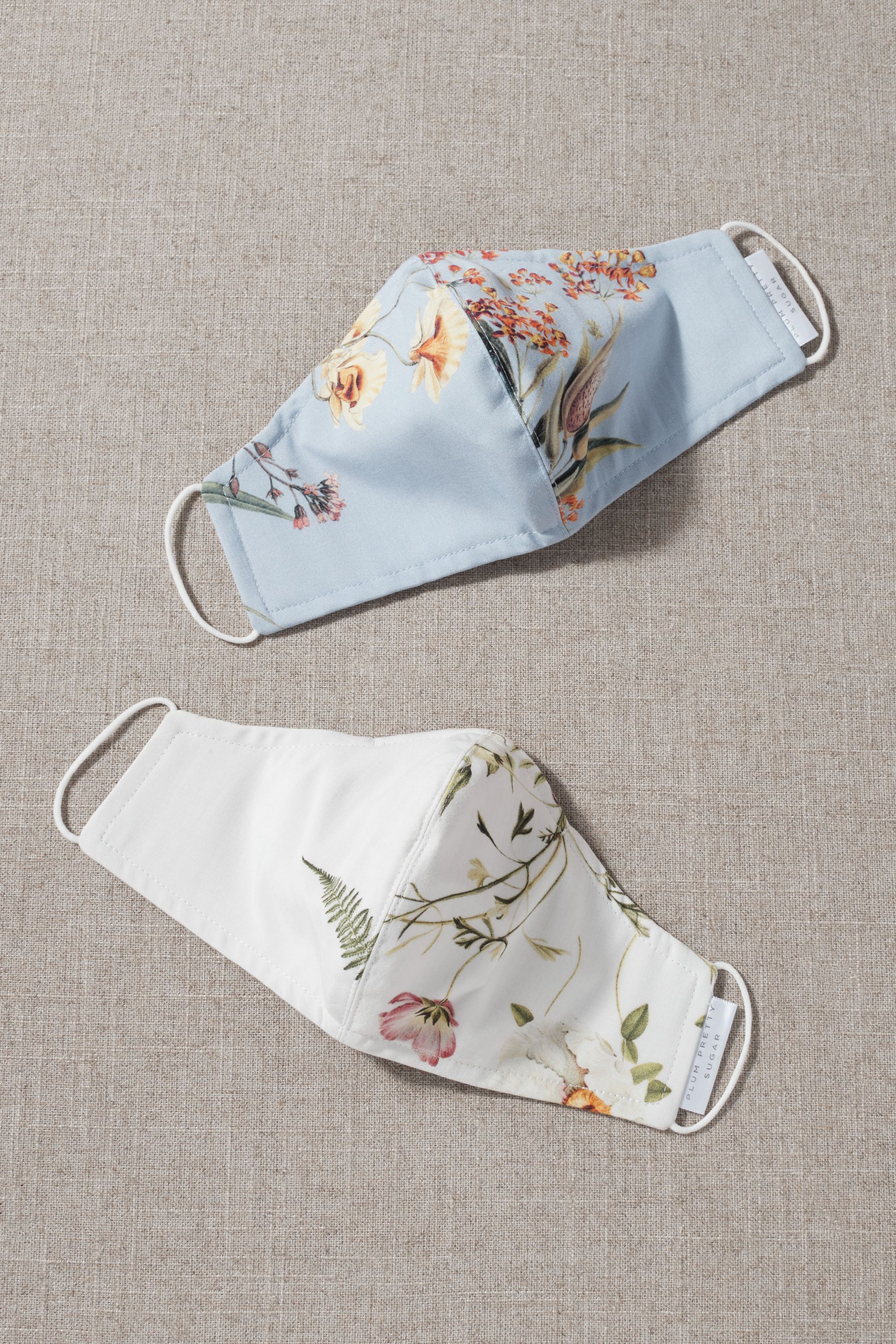 Florette Reusable Face Masks by Plum Pretty Sugar via BHLDN
9. Garden Party
Linen Embroidery Face Mask by Ken Strap Shop via Etsy
10. Tulle Tied
11. Butterfly Bride
Butterfly Mask Set by Claire Pettibone
12. Vintage Whimsy
Bunnies & The Forest Vintage Fabric Masks by Esme's Drawer Too
13. Pink Bows for Your BMs
Pink Bow Mask by Erin Robertson
14. Custom Perfection
Custom Lace Face Mask by Styleista
15. Romantic Lace
White Lace Face Mask by Fashion Raks via Etsy
16. Beaded Beauty
Cosette Beaded Face Mask by Evening Room via Etsy
17. Little Pearls
Small Pearls Luxe Bridal Fitted Face Mask by Whimsy & Thread Shop via Etsy
18. Red Velvet
Indian Bridal Face Mask by BAnu Designs via Etsy
19. You & I Do
I Do Face Masks by Claire La Faye
20. For Your Wildflower Wedding Guests
Masks Five Pack by Jane Valken
Still searching? We highly recommend taking a look at what small businesses on Etsy have to offer!
Is Coronavirus effecting your wedding plans? Find all of our COVID-19 wedding help here & don't miss our Virtual Wedding Guide to help plan your digital day!