So, you've ordered your wedding day face mask, now for the next Covid-friendly wedding accessory: bridal gloves.
Recently – around the socially-distanced, virtual Bridal Musings water cooler – we've asked each other, "Is Coronavirus the time to bring back the bridal glove trend?" We think yes.
We're not the first to call for the return of the trend. Just a couple of years ago we applauded this fashion trendsetting bride from Portland wearing her family's own accessory designs. Moreover, in the luxury RTW world, we've been fangirling for Alaa Balkhy's glove-wearing for a while now.
It seems that this new need for clean wedding goods is just the final push to recall this nostalgic wedding accessory. What better way to stay healthy, protect yourself & your guests and add yet another stylish piece to your wedding day ensemble?
Here are 10 stylish bridal gloves to kickstart the trend…
1. Embellished Tulle
Ivory Tulle Bridal Gloves by CICI Wedding Store via Etsy
2. Glamorous Applique
Wedding Gloves with Lace by AN Lace Studio Shop via Etsy
3. Classic Bows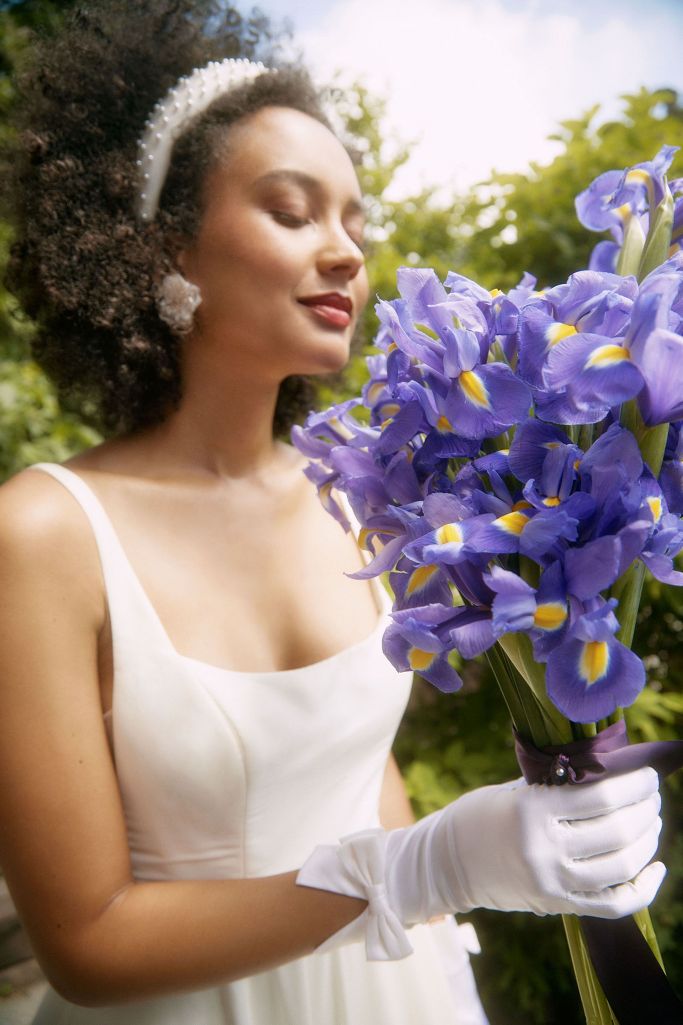 Rimini Gloves by Carolina Amato via BHLDN
4. Blush Pink
Long Blush Pink Leather Gloves by Manokhi via Farfetch
5. Soft & Romantic
Ladies Bridal & Bridesmaid Gloves by Shleif Dress Bridal Co via Etsy
6. Something Old & Something Blue
Vintage Blue Bridal Gloves by The Gilded Garter via Etsy
7. Runway Ready
8. Washable Gloves
Washable Nylon / Lycra Gloves by Carolina Amato via ShopBop
9. French Blue
Leather Gloves by Saint Laurent via Farfetch
10. Fun Fringe
Yello Leather Fringe Edged Gloves by Manokhi via Farfetch
Still searching? We highly recommend taking a look at what small businesses on Etsy have to offer!
Is Coronavirus effecting your wedding plans? Find all of our COVID-19 wedding help here & don't miss our round-up of wedding-ready face masks for brides, grooms & guests!